I had to laugh. I was trying to follow Jamerrill Stewart and
www.freehomeschooldeals.com
on Pinterest because she posts a lot of free Kindle books and free is right up my alley. In the process, I found this: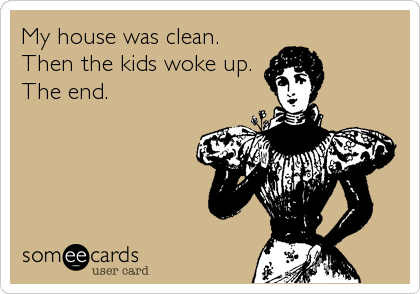 This sums up how it's been lately. I'm working with the girlies and they are good little Blossoms, but my day is taken up with school and cooking and such... I feel like the house hasn't been deep-cleaned in years. <Don't judge.>
A clean house is important to me because I know it's my job to take care of the house and I want to do all things with excellence.
Every day, I'm striving for excellence in housekeeping as well as in everything else. Oh, and Blossom2 and Blossom3 are on a paper-snowflake making kick. So there are tiny pieces of miscellaneous paper
EVERWHERE.
I think I start to twitch as they are joyously making another paper snowflake. (I haven't figured out what triggered this new kick, but they are seriously enjoying it.) (I also haven't figured out what I'm going to do with the stack of 25+ paper snowflakes and additional "pretty" scraps that are lying on the printer... gifts from my loving Blossoms! I told them it was too early to hang them on the windows. I'm sorta glad I did, as we wouldn't be able to see the fall foliage outside at this rate.) I think the thing that makes me twitch is the fact that the vacuum cleaner is in the shop right now. Oh, the irony.
I noticed the overwhelmed feeling makes me sigh and promptly taints my outlook about everything. Even when I accomplish one huge thing every day (of educating our children patiently and faithfully), I brush that aside come afternoon, because all I can think of are the thousand things that
still
need to be done. I finally took it to the Lord because I know the desire for excellence is good and right. The overwhelmed feeling isn't good and right. I think it means I'm carrying burdens that weren't meant for me. I heard the line from the old song this evening, "Oh, what needless pain we bear... all because we do not carry, everything to God in prayer." I carried it to the Lord. He will show me what to do. Until then, I'm going to continue doing the best possible job on what I can manage - a great homeschool, prompt, healthy meals for my family and a moderately tidy home. Just don't stare at the corners of the floor when you use the bathroom here.